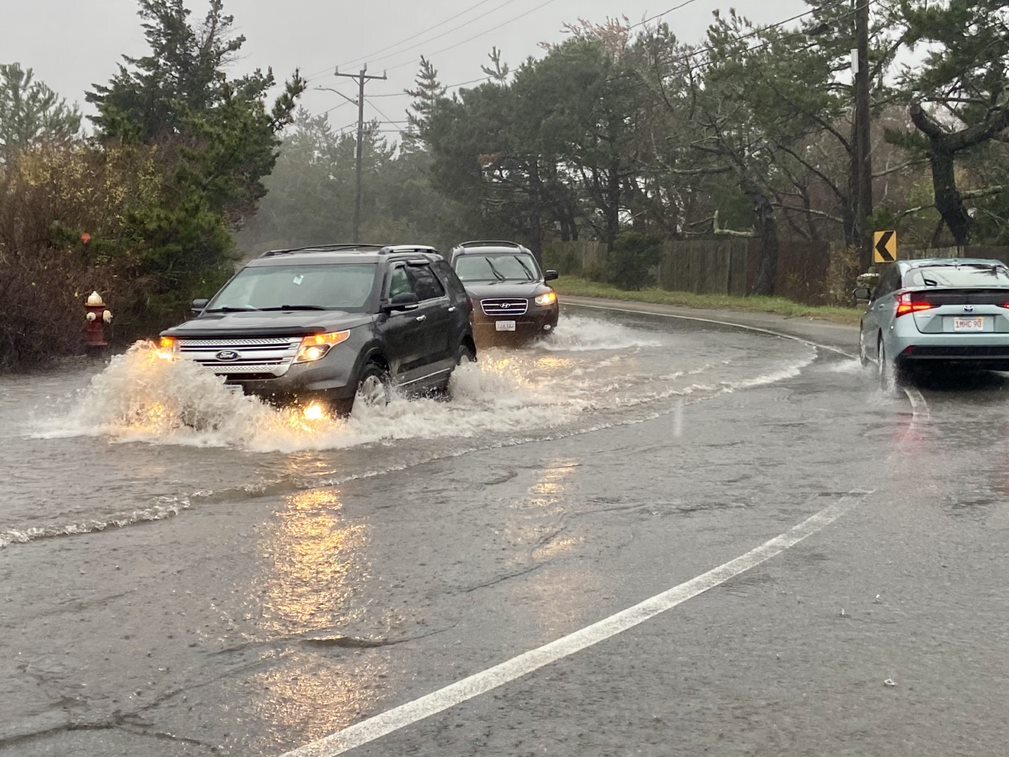 Infrastructure, Transportation, and Waste
Actions in this focus area aim to build more resilient ferry transportation and infrastructure and a reliable supply chain to ensure an adequate flow of goods, materials, and services. Actions also include building self-sufficiency and reducing waste.
Progress Toward Our Goals
Progress Toward Our Goals
Many actions are underway in this thematic area from various partners but here are some highlights.
A "Citizens for a Circular Economy" group is established and looking at waste reduction and circular economy ideas that support CAP Goals.
MV Food Waste Initiative Committee and Town of Oak Bluffs submitted a proposal was submitted to EPA for funding to secure a new composting drum in the OB Waste facility.
The MVC has representatives attending SSA board and long range planning group meetings to share climate related updates.
Climate Change and Infrastructure
Climate change poses numerous risks to our critical infrastructure:
Damage to coastal roads and infrastructure from stronger and more frequent storms, sea level rise, and higher storm surge.
Damage to ferry and harbor infrastructure and increased ferry cancellations from extreme weather, disrupting the supply chain and access to off-Island resources.
Increased tidal flooding to coastal roads and infrastructure (including wastewater, water, communications).
Loss of access to critical facilities such as the Martha's Vineyard Hospital and Steamship Authority due to coastal storms, storm surge, and flooding.
Climate Change and Infrastructure
Building Resilient Infrastructure
Making sure that our critical infrastructure - including our roadways, harbor facilities, the hospital, and schools - are safe from climate impacts, like rising sea level and storms, is essential. In some cases, this may mean relocating infrastructure or facilities to areas that are less vulnerable, and in other cases we can take action to make this infrastructure more resilient.
Did you know? Recent improvements to the fixed piers and platforms at the Steamship Authority's Woods Hole facility were designed to accommodate sea level rise for the fifty-year service life of the project.
Transforming Transportation
The Steamship Authority is the lifeline to the Island carrying goods, materials, and services we rely on daily. Between 2018 and 2020 there were over 1700 boat cancellations due to weather. Extreme weather will get worse with climate change. Actions in this plan are aimed at understanding our supply chain vulnerabilities and identifying key actions to ensure essential goods and service are consistently available including in times of emergencies.
Living on the Island means we have to do some things differently. That includes getting rid of waste! Between 2020 and 2040, it would cost $19.4 million dollars to export the average food waste we produce every year (some 6,500 tons) off the Island.
By supporting on-Island composting, and reducing the amount of food waste we generate, we can save money and supply compost for local food production.
In addition to minimizing wasted food, we can also support a self-sufficient Island economy that re-uses materials and limits the importing of single-use items.
Enhancing Community Resilience
Older residents and people with existing health concerns may be disproportionately impacted by transportation and infrastructure disruptions. This plan seeks to improve the resilience of our critical transportation and infrastructure which will improve resilience of these vulnerable populations. This includes improving access to the Martha's Vineyard Hospital during storm events, improving the supply chain to ensure the availability of medical supplies such prescriptions during and after storm events, more resilient ferry service to ensure consistent access on and off-Island, and an improved communications infrastructure.
Take Action for Resilient Transportation, Infrastructure, and Waste Systems!
---