Land Use, Natural Resources, and Biodiversity
Martha's Vineyard is home to globally rare ecosystems and a wide array of biodiversity. The actions in this focus area strive to preserve and better manage the Island's natural resources. Actions also focus on improving zoning and land use management to ensure safety of our community.
Progress Toward Our Goals
Progress Toward Our Goals
Many actions are underway in this thematic area from various partners but here are some highlights.
The MVC has completed phase 1 of a salt migration study, reestablished an All-Island Conservation Commission group, and drafted a DRI policy for coastal resiliency.
BiodiversityWorks, Poly Hill and Vineyard Conservation Society are collaborating and pursuing funds to conduct campaigns that 1) promotes native landscaping and 2) encourages reduced lawn sizes.
MVC and conservation partners are seeking funding to update vegetation mapping and prioritize habitat for connectivity/conservation resilience.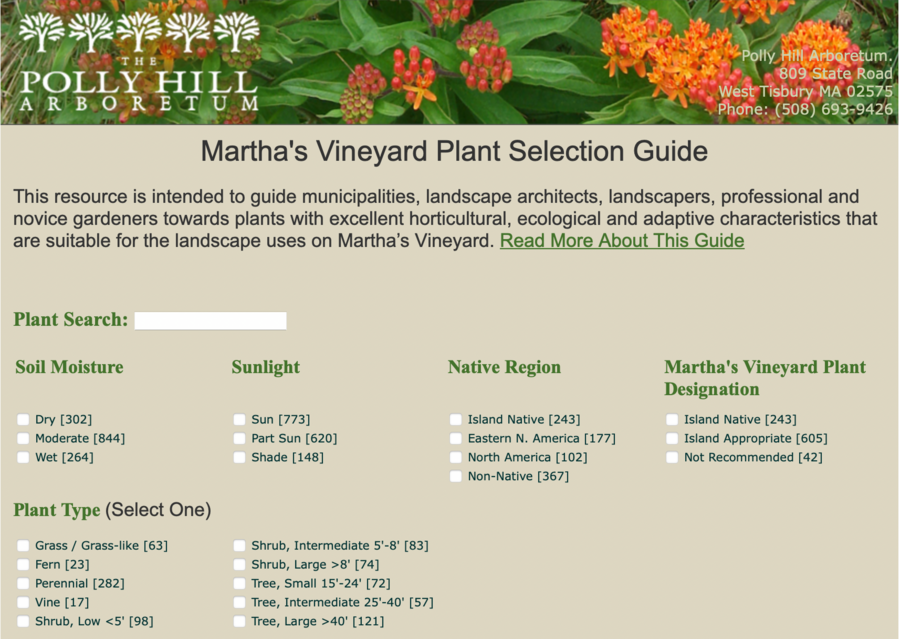 Selecting Native Plants
Check out Polly Hill updated plant selection guide, which allows you to select native plants based on your site conditions and keep an eye out in May for courses on native plants.
Dukes and Nantucket Counties have the fastest population growth in the state. As more people call the Island home, we need to ensure that we are growing smart and protecting the health of our diverse natural areas and keep people out of current and future risk areas.
7,400 new houses and 9,000 guesthouse could be built based on current zoning. Currently 313 buildings will be permanently flooded by 2050 due to sea level rise, storms, and storm surge. The development planning and zoning choices we make now can either aid in building resilience or create new vulnerabilities.
Protecting our Environment that Protects Us
Over the last 25 years, clearing land and planting non-native species contributed to a loss of nearly 10% of our native flora. For new and existing properties, enhancing biodiversity is critical to supporting healthy resilient ecosystems.
Without room to migrate inland, many salt marshes could turn into tidal flats as the sea rises. Over 266 of the Island's 3,500 acres of wetlands (largely salt marshes) could be lost by 2050. Taking steps to protect these areas for wetland migration will help retain their ecosystem values and build resilience.
Nearly every one of our 27 coastal ponds are currently classified as "impaired". Taking action to reduce pollutants and runoff will help our pond ecosystem resilience to climate change.
On our Island, equitable access to basic resources is already under stress. Our growing population is living in prolonged states of insecurity – a problem which will deepen in the face of climate impacts. The Vineyard Way plan aims to foster careful land use decision-making that is inclusive of the community and can help keep our most vulnerable residents out of harm's way while also promoting of a healthy environment. If not done thoughtfully, however, our existing land use patterns stand to broaden inequality, further endanger our most vulnerable populations, degrade our environment, and impair the overall resilience of our community.
Take Action to Protect our Natural Resources and Biodiversity!
---
Choose native plants and trees; they are easier to care for, increase biodiversity, and absorb storm and rainwater.
Read The Island Blue Pages, A Guide to Protecting Martha's Vineyard Waters
Reduce your lawn size to native plants.